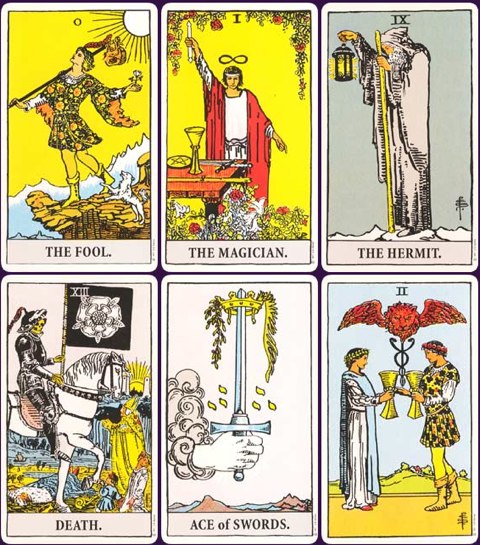 Top Deck Cards: The Rider Tarot Deck
Amazon.com/ The Rider Tarot Deck
The Rider Tarot Deck Full Review
This was my first tarot deck, and even though I have over 25 decks today it's still my favourite.
Waite's deck is good for both beginners and seasoned readers - it's easy enough to start with, but deep and complex enough for those who dig deep to find more and more meanings in it.
I'll give examples to explain what I mean :
[1] The Tarot de Marseilles is another excellent and popular deck, but has the drawback of having geometrical pips, which make it hard to read for beginners - unless the reader has a very good memory, she'll have a hard time handling about half the deck.
[2] Aleister Crowley's Thoth deck is as popular and good a deck as Waite's, and would certainly reward those who learn all the appropriate associations (e.g. astrology), but for someone who knows that material there's only a small extra penalty in remembering the associations for the Waite deck on account of the missing symbols.
[3] The Conolly deck is based on Waite's and is friendly to both the new reader and the readee, but is 'dumbed down' and doesnt have the symbolical depth of the Rider, so an experienced reader would most probably leave the Conolly deck in favour of the Rider-Waite or Thoth decks.
The Rider-Waite deck is very christian in it's symbology, with some Judaistic symbols (e.g. Cabbala) in it [as is the Thoth deck] so people who want a deck with a symbology coming from a different culture might want to opt for some other deck (e.g. the Haindl tarot, the Osho Zen tarot, etc).
Some of the deck's advantages are not directly related to it's images - it's popularity means there are many books about it to learn from, it's cheap and widely available (if you lost your copy and want to buy a new one or want to buy someone a deck as a present), etc.
Amazon.com/ The Rider Tarot Deck